[CE] High Frequency Embossing Machines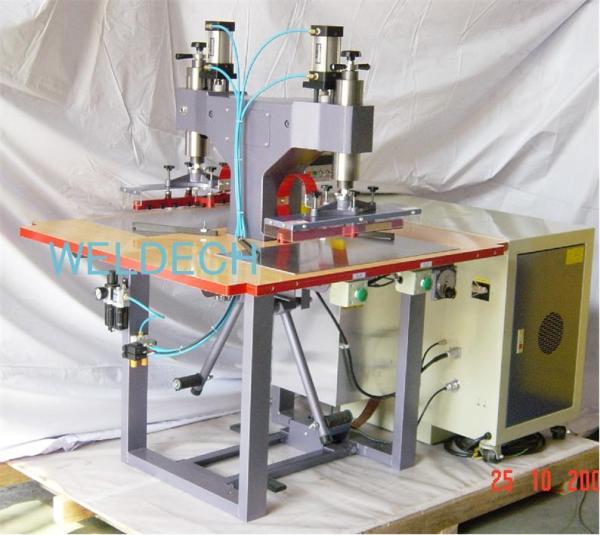 Product ID: PWN-4000FA, PWN-8000FA
Pure PVC, soft PVC, leather that contain over 30% PVC, PU, EVA, PVC transfers to genuine leather, special fabric PVC materials-all of these can be processed.
Applications

Textile fabric PVC on cloth.

Traveling bags, Handbags.

Stationery, Name-plate badges.

Footwear, Trademark labels, Stickers.
Features:
This is the machine with the CE certificate version, we also offer the version without the CE certificate!
See more complete detail
| Model | PWN-4000FA | PWN-8000FA |
| --- | --- | --- |
| Type of operation | Pneumatic | Pneumatic |
| H.F. Out-Put Power | 4 KW | 8 KW |
| Input Power | 6.5 KVA | 15 KVA |
| Oscillation Frequency | 40.68 MHZ | 27.12 MHZ |
| Oscillation Tube | E3062TV | 7T69RB |
| Power Supply | AC 220/380/400/415/440V 3Dia./1Dia. Voltage to be arranged at instruction. | AC 220/380/400/415/440V 3Dia./1Dia. Voltage to be arranged at instruction. |
| Rectifier | Silicon Diode | Silicon Diode |
| Max Gap of Electrodes (mm) | 170 | 170 |
| Press Stroke (mm) | 50 | 50 |
| Max Pressure (kgs) | 170 | 300 |
| Lower Electrode Size (mm) | 350 x 700 | 350 x 700 / 400 x 800 |
| Net Weight (kgs) | 300 | 500 |
| Gross Weight with Packaging (kgs) | 400 | 600 |
| Size of Wooden Case (cm) | 170 x 125 x 160 | 185 x 130 x 165 |